OUR NEW BOHO CHIC WIDE PLANK FLOORS + ALL THE DIY DEETS!
#SelfieSaturday
Hello I hope your week was a good one! Did you achieve anything special or was it just one of those weeks that flew by with nothing much happening? I dislike those weeks, it feels as if you have gotten no where but then again life happens in needle point movements, so we are always making progress whether we see it or not.
Mine was fairly good, was glad to be well + I said goodbye to that horrible flu! Everything was a little chaotic, as by night I was painting floors and by day I was juggling my time between work + keeping my 1 year old from staining the pre sealed floors. It was kind of crazy town but as you can see it was well worth the effort. I get in those moods where I'm like "I'm doing it + nothing's stopping me" . I was so sick of looking at the old honey coloured wood floors, although they can look gorgeous in the right space, they just where not working with the rest of the tones in our house. Warm wood floors can be the perfect flooring for large style homes but given we are renovating a smaller cottage style I wanted flooring that would create an illusion of space.
The light tones used now blend in with the colour of the walls, removing from the eye where the floor ends + the walls start. The previous colour of the floor really just highlighted the floor perimeter + made the space look smaller. Now, your eyes float around without any disruptive colour changes. The idea of using stripes comes back to the old fashion rule of thumb "horizontal stripes make you look wider" a fashion no no but an interior yes yes! 😀 . It's so amazing how big the space looks now and I have to say I think this has been one of my fav design tricks in this property.
The idea to use stripes was not just to create an illusion of width in the room, but I also am pretty obsessed with wide plank flooring + knew I could create the look by painting two planks in alternate tones. It's worked just lovely, Im really in love with the results and the space just feels so calming + has more of a high end finish for very little $$$.
So there was a lot that went into choosing the right design but once finalised, I was a lady on a mission!! Big thanks to my hubby Jai + daughter Lexi who helped create these beautiful 'Hamptons meets Boho', striped floors. Oh + of course thanks to Saxon our 1 year old quality control manager for racing around his big toy truck + testing the durability!
Get the look!
Prepping the floors
Most of our floors where stained with a honey maple colour. The great thing about deciding to paint over pre stained floors with an opaque finish meant we didn't have to sand back all the way to bare wood. A light sand just to rough up the surface is all you need to do to get a nice locked in finish. So if you do have wood floors and your thinking about which way to go, remember it is a huge huge amount of work to sand back to bare + depending on the wood your working with, it may just not be worth it. Don't get me wrong of course I love the look of wood and the warmth a nice grain can bring to a space but I guess it depends on the floor plan + size of the space, whether your starting fresh with completely new flooring or working with old boards. For us after going through all the possible outcomes, pros + cons of each look, this was the best decision for our space, time available + budget!
What paint did I use ?
So I went with an outdoor decking paint by Cabots. We chose SURF MIST + PALE BIANCA, a very slight contrast in the colours and the reasoning was to create calm rather than chaos. If you have a strong contrast between your two tones then you will be creating drama, aka in my mind chaos. Ok let me clear this up before I get messages about loving a strong bold stripe! Haaaaha ok a strong contrast like black + white or perhaps a darker grey could both look amazing too ( obviously theres heaps of colour palettes you could play with). The question is, do you want to feel calm in your home or do you want a very energised, bold + dramatic space. If I were doing a commercial space or perhaps a walk in wardrobe I may be tempted to play around with a more bold contrast. But my home is where I want to feel at peace. The low contrast creates such a lovely calm that images just don't show. As I look around the space I feel soothed, relaxed + it's a really beautiful experience to feel how changing just one element in a space can have such a huge effect on the soul.
Now back to the specs, so as I said I used Cabots which is an outdoor decking paint. Now an outdoor paint is not always the most durable despite what one may think. The pores in an outdoor decking paint are designed to stay open a little to allow for the fluctuating temperatures that we get in the elements. So why did I use a decking paint if it's not the most durable? Well our house is a split level, in the mountains. We are raised on poles which creates a vacuum of wind that flows under our house. Inside however we are either toasting by the fire in winter or cooling by the air conditioner in Summer. For me I felt that I wanted a little flexibility in the paint lock as we really are exposed to some shifting temperatures changes both under + above the boards. If your not in conditions like ours, you may want to check out the Watsons' Interior Floor Paint.
We then chose the the Cabots top coat sealer to finish off. The top coat was the most expensive purchase but still great value at $114 per 4 ltd tin. It gives a water proof finish. We chose the matt finish which has given just a slight sheen, enough to lock everything in place with a little lift of tone. You can get the sealer in high + semi gloss too.
$60 Keep it low contrast for calm! High contrast for drama!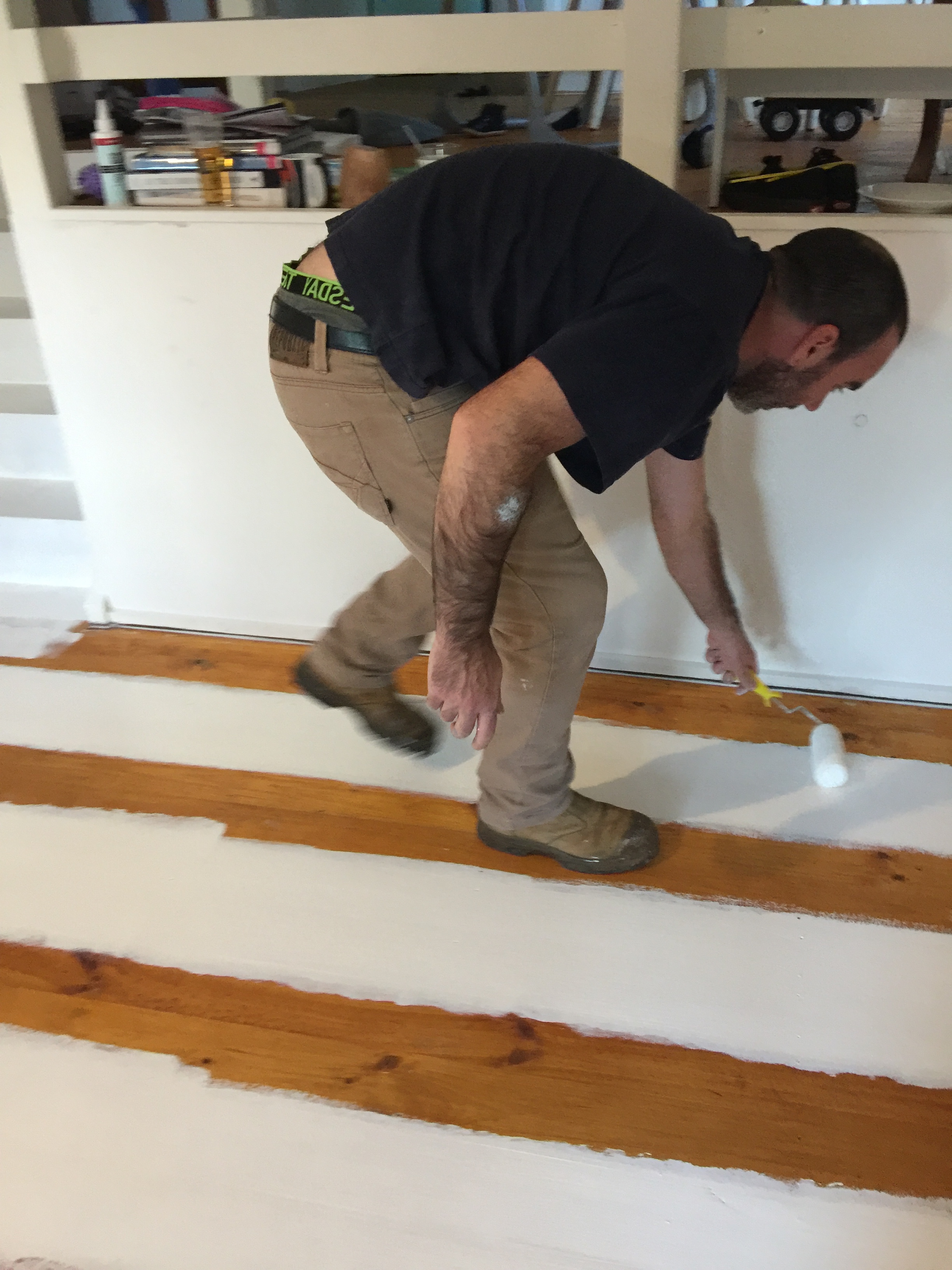 Once you have prepped your floor, roll your first colour over two planks and then leave two planks and so on. You don't need to tape off at this point. Just do 2-3 good coats and try to stay as close to your two board edge as possible. Don't forget to cut in at the end of each row!
Once you have done 2-3 coats of your first colour, let it dry for 24-48 hours. The longer the better!! Then it's time to tape off for your next colour. Now the RIGHT TAPE IS SO IMPORTANT! DO NOT SKIMP ON THIS. The best tape to get is quite pricey around $11 per roll from bunnings. However I can't stress how important it is to use the right tape, believe me I tried others and they all peeled off my beautiful paint and hubby + I had to fix all the patches by hand. So the best, most amazing tape to use is 3M™ScotchBlue™ 24mmx55m Delicate Painters Tape
The trick to a nice tape off is just to simply start at one end taping on the top edge of the planks already painted. The tape is really easy to work with and you don't have to be too precious at this point. Just make sure it looks nice + straight to your eye and that you are following the line of the plank.
3M™ScotchBlue™ 24mmx55m Delicate Painters Tape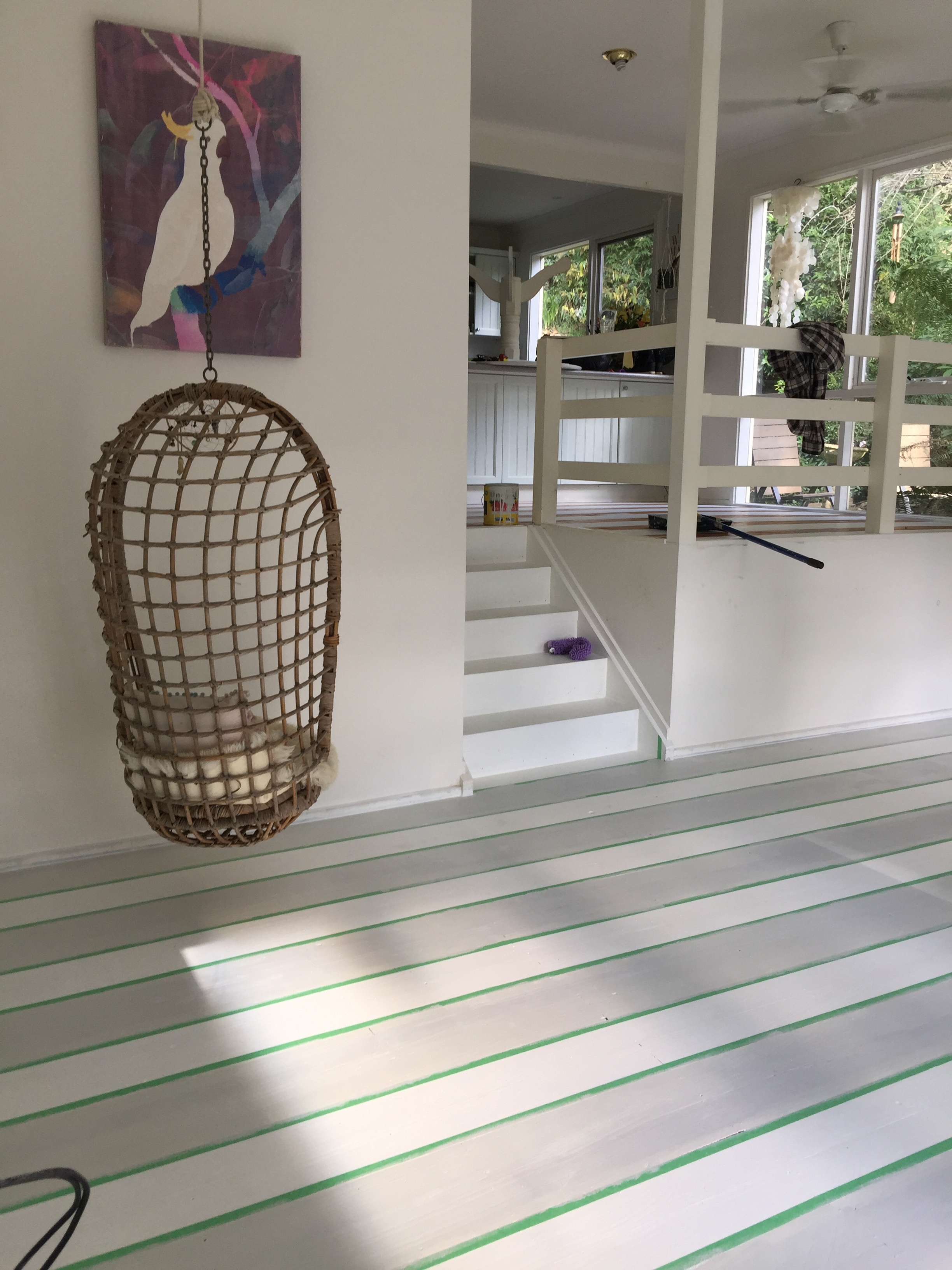 This is the fun part + where you will really get to see what your new floors are going to look like! So roll 2-3 LIGHT coats. Its better to have 3 light coats than 2 heavy, messy coats that will most likely bleed under your tape. Once you have rolled in between your tape, ensuring you have good clean lines up to your tape, wait 30 mins and then stepping only on colour #1 go on in and start to gently peel tape off. I do this quite soonish as the longer you leave the tape, the more like you are to get paint peels. Now unfortunately, even with the amazing blue tape, you will still get a few peels. Don't PANIC, lol. I did ;) But it was super easy to just fix them up, by hand, with a gentle feather and a downward line stroke. We had a few peels using the green tape (pictured), I then moved to the blue tape which really in comparison was amazing and only had a few peels.
$114.00
Finish off
Let your second colour dry for 24- 48 hours. Then it's as simple as rolling on 1-2 coates of the CFP sealer pictured below! I used the matt, it is so perfect and I really wouldn't want to go a semi or a full gloss. I think floors with a high sheen create too much reflection, shine and glare which doesn't look great and effects the visibility of your pattern. Just think of all your lights reflecting off gloss, not good!!
Your Done!!
So thats it guys, it's a little fiddly but so worth it! Our floors coast only $230 and I'm so in love with them! If you have any further questions on application etc, please feel free to ask away below.
Have a gorgeous weekend, take some time out for yourself.
Remember no one is going to look after you but you!!
Peace Out xx
Melanie Sherwell - Interior Designer
Soul Shapes- Lifestyle Interiors