HOW TO INCREASE THE ZEN + POSITIVE ENERGY IN A SPACE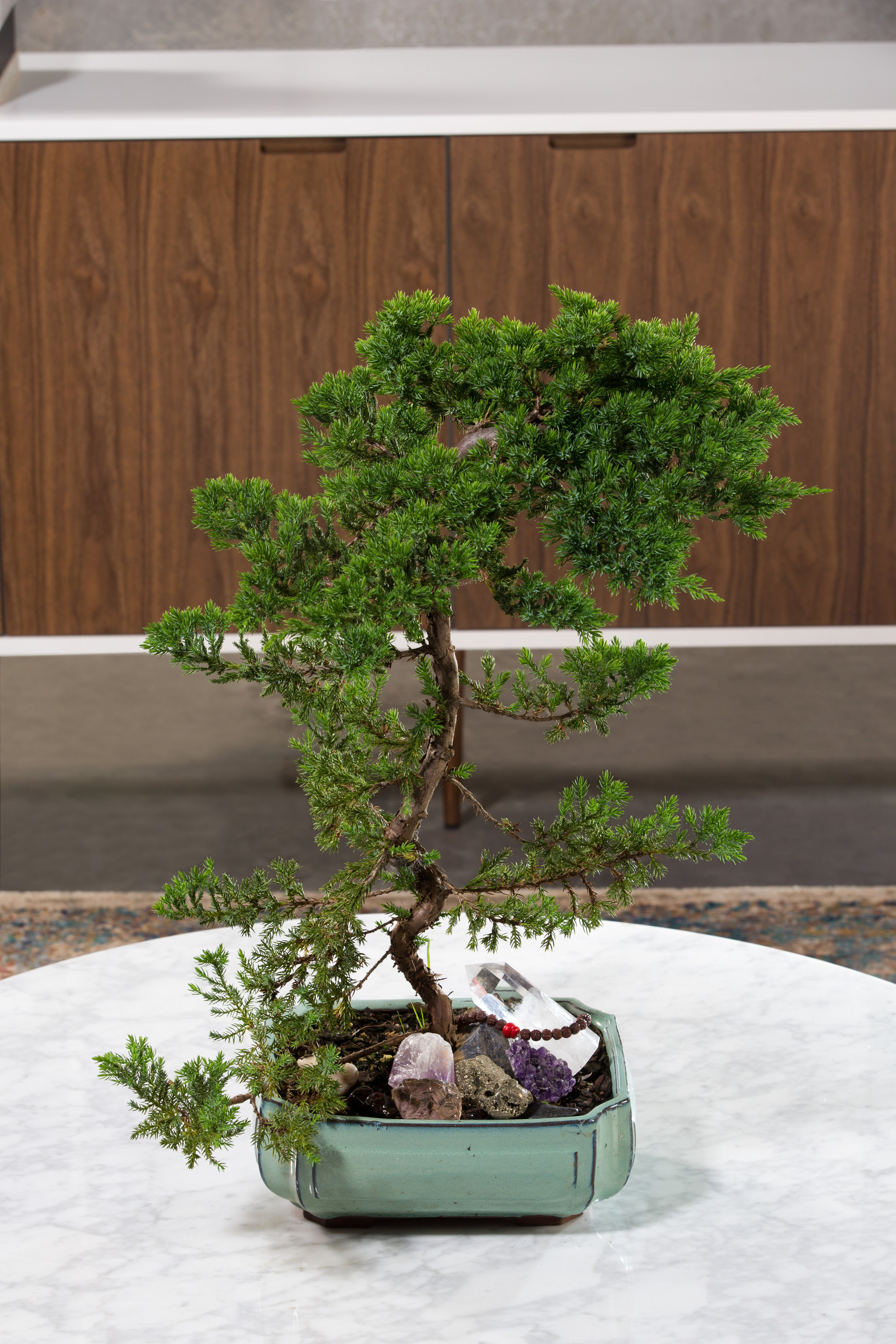 Oh I love it! Saturday just has the best feel don't you think! Everyone is in a good mood on a Saturday! There's just so much possibility, whether you're at home with the fam or your loved one, or even if you have to work, Saturdays are the best!! Today, on my favourite day of the week, I thought I would give you the tools to create a quick refresh in your home. So grab a cuppa and have a read and make today's activity, giving your space a little energy facelift!
#selfiesaturday
So let's talk about energy! What do I mean by lift the energy? Well, I'm not talking about increasing your electricity bill, if you're like most of us, you don't need help with that ;). What I actually mean is the energetic vibration that surrounds you, in your space. Think about when you have walked into a space and it just feels wrong! There is a heavy, depressing feeling and you really just want to get out asap! That feeling can happen on a large scale or even just a small scale. Sometimes the energy in a space can become flat and although you may not be able to see a physical reason why, you will just feel horrible and naturally want to get out. When that space is our home, it can be quite depressing! These energies can affect your mood, motivation, happiness levels and just your overall quality of life. Who would think the space you live in could have so much effect over you? Well, it does make sense, as pretty much everything in the universe, including ourselves, our furniture and our home is all on some level, a connected force of energy. Now I say connected and I want to emphasise this part as it really is important to recognise nothing is separate, and everything has an energetic influence + effect. I hope you're getting what I mean by this, I know it's a little e=m2, but this really is science expressed creatively through design. Your home is supposed to rise up to meet you when you come through the door and if your space is smacking you in the face with a wet fish, then it's time to admit you need to sort out your home's soul vibes.
Soul Shapes actually specialises in this area and I offer both online and in person 'Energy Shift' design solutions. So if this is all resonating with you, check out the i design energy shift package or get in touch to organise an onsite consultation or a free info chat.
Now for those of you who just can't wait any longer and need to get your space feeling right asap, then let's get into these beautiful, affordable ways to increase the zen + energy in your space!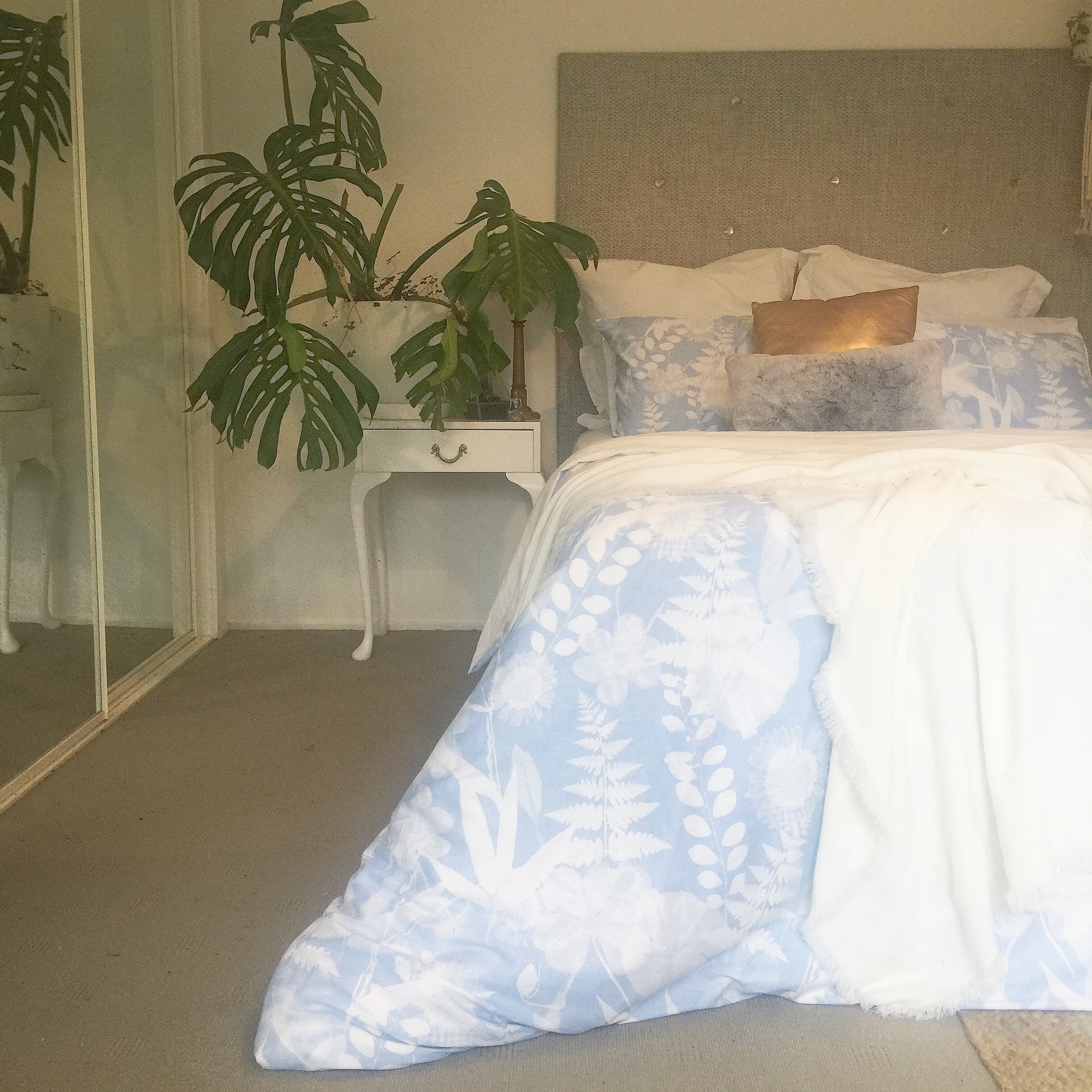 One of the major reasons the energy in a space can feel blaaaa, flat and depressing is a simply the colours used in the space. Now I'm sure most of you would be aware that colours have a psychological affect on us. This really isn't rocket science and you only need to ask yourself how certain colours make you feel to know what colours you should be surrounding yourself with. So for me I love pastel blue, it's calming, it's refreshing and it really is gentle and not too intrusive. I know I want to have this colour around me and I only recently gave my master bedroom an energy shift with new linen in pastel blue. If I were to have gone, brown or red, I have to tell you those colours would not make me feel calm + refreshed. Brown to me is a sad colour (sorry brown) and I would only use sparingly with lots of other brighter fresher tones that keep the space + energy lifted. Colours are actually really clever in the way they tell you what they will do by categorising themselves into light + dark tones. So light colours will make you feel literally light, fresh + new! Dark colours will make you feel moody, heavy + little more serious. I'm definitely not saying 'don't use dark colours ever' but you have to factor that if you do go dark, you will need to counter act these darker tones with the correct balance of light to keep it balanced. You could achieve this literally through adding lighter colours in the space or you can actually increase the lighting so that the same balancing principle is achieved. So simply put, check your space is not too much of the heavy tones, get it balanced through adding fresher tones in new cushions, sheers/curtains/blinds rugs or even better paint! To take it next level you might want to consider changing out some heavy darker tone furniture pieces. If this is the case, when you're ready, get in touch and have Soul Shapes create completely new selection of furniture + decor for a fresh + modern look. Clever interior design is what we are about and you would be surprised just how much a professional can transform a space
Lastly, there is an energy lifting ritual known as 'saging' that has been used for hundreds of years. Saging is often used in spaces that may have residual spirit energy that one may want to remove. You may have heard many do this when they move into a new house to remove any bad vibes or energies either from the previous owners or perhaps from the other side. It really is a great way to at least make a concentrated effort to lift the space. A sage stick is a super large, chunky type of incense stick made from the herb sage (hence the name). Sage, when burnt has a very strong smell and has protective qualities + the ability to move on and dissipate unwanted heavy energies. You can find them online or possibly whilst purchasing your crystals. Then perform this ancient energy lifting ritual by opening all the windows and with the lit sage, gently feather the smoke around all corners of your home. Be sure to go into dark little corners and really flurry the smoke into any damp, dark areas. Then, when done close your windows leaving only your own positive vibes in your space!
Do you ever smell a certain perfume and your instantly transformed back to a time or memory and the feeling is so strong that you almost feel like your back in that exact moment? This happens to me all the time and I find it so interesting. Especially if it's a memory from years and years ago, it's like another part of myself returns for that brief second. Well, this is just one quick thought that comes to mind when I think of the power of smell on the psych. There really is something magical about the effects of scent + I'm sure you will agree, whether it's the smell of yummy food or a beautiful perfume, scent, is super influential on how a space feels.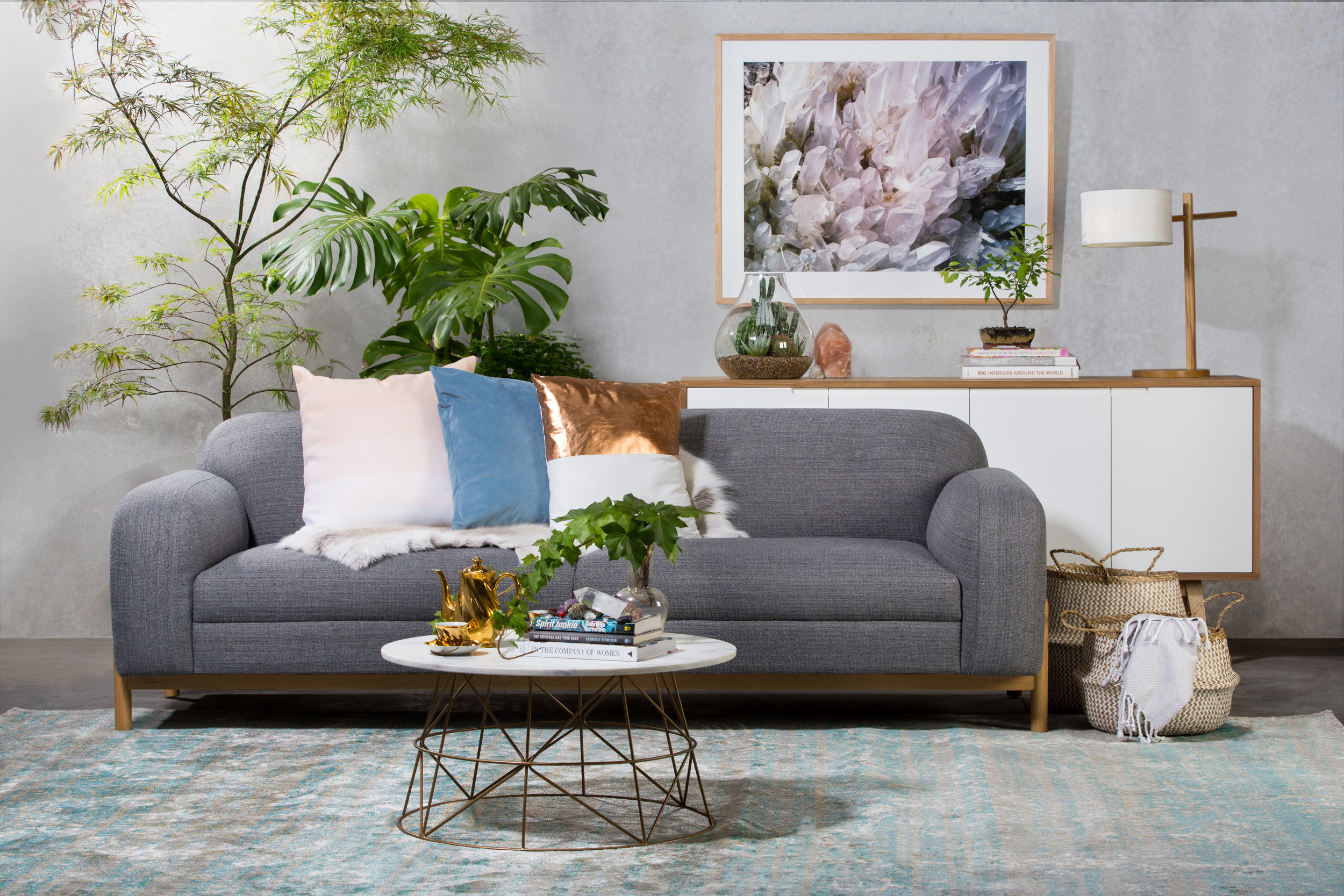 Visually plants + flowers obviously look amazing and aesthetically they are a beautiful design focal point. Did you know that bringing plants into your space actually improves the air quality? Go grab a big fat beautiful plant or bunch of flowers and pop some next your bed, in your living room, bathroom, kitchen, everywhere!!! Go crazy and watch your mood lift and bloom like your gorgeous flowers! I know this is a popular trend and so many of you design savy peeps are all over this, but isn't it good to know that they do more than just look pretty!
Himalayan Salt Lamps are so hot right now and another one of my favourite ways to lift the energy in a space. These beautiful lamps are able to purify and clean the air in a space by absorbing water in the air + trapping dust, pollen + pollutants. Not only can they cleanse the air and improve breathing capabilities but they remove odours too! Now my favourite thing that salt lamps do is they literally increase our energy levels! Yes, you heard right and don't we need it! Salt lamps are said to combat the positive ions that exist in our air. These positive ions really should be called negative ions ;) as they reduce the flow of blood around the body which drains our energy. But in actual fact, it is the beautiful salt lamp that produces the negative ions that are so super beneficial, and they also help neutralise the electromagnetic radiation produced by household appliances. Electromagnetics are known to cause fatigue and interfere with our natural healthy rhythms and cycles affecting sleep and concentration. There is so much exciting information available on the benefits of salt lamps, for more info head to http://negativeionizers.net/negative-ions-benefits/ .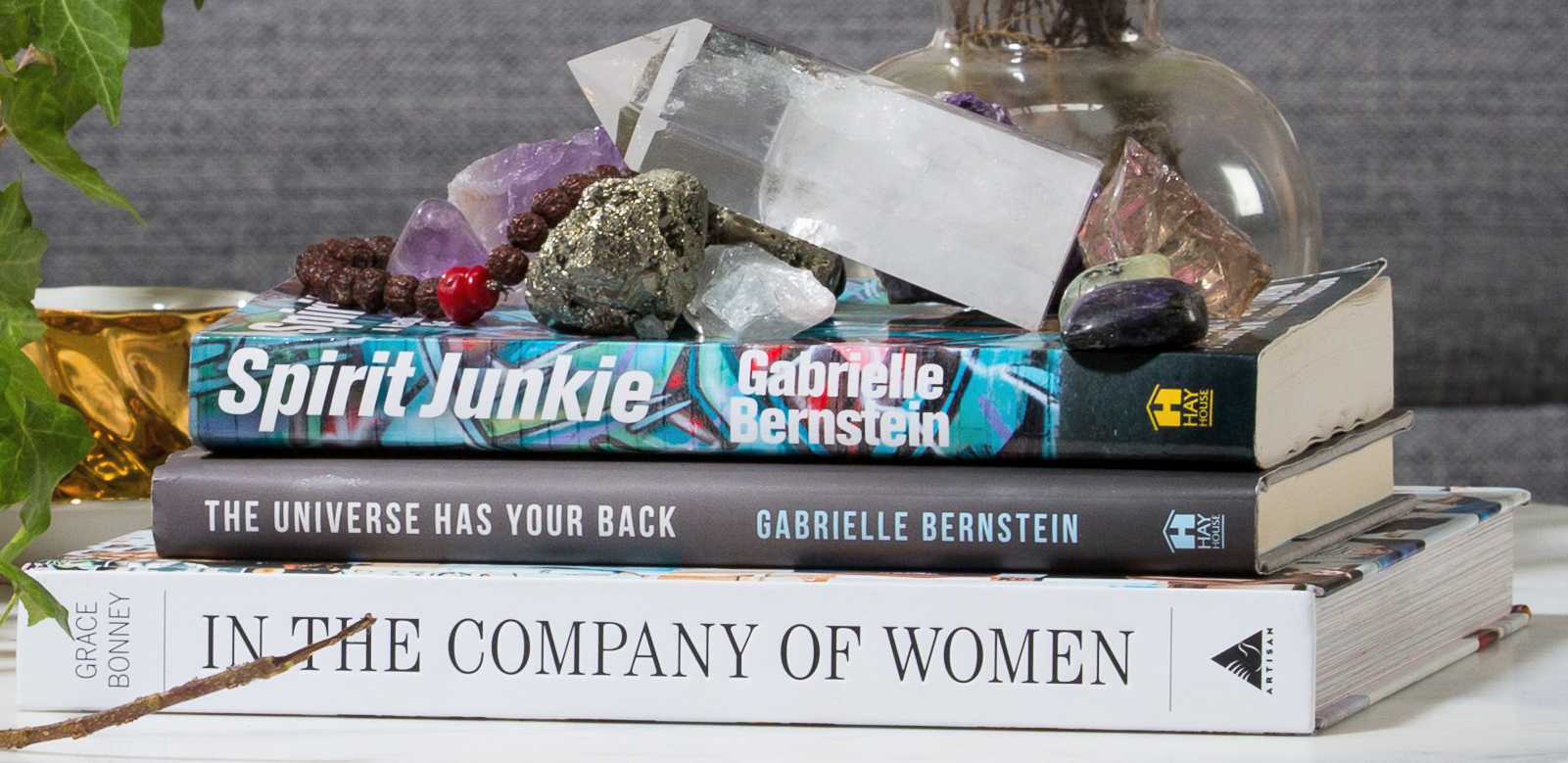 Crystals are energy expressed as matter, just like everything, however, crystals are said to be concentrated forms of powerful energy that are known for their healing and energy shifting properties. For hundreds of years, humans have used crystals in their homes and they are said to improve health through their ability to emanate into a space and our own auras. These beautiful naturally occurring stones come in so many shapes + colours and they have so many specific healing properties. Choosing a crystal to place in your home can be as simple as asking to be led to the right crystal. Literally you need to ask "show me the right crystal" . Find a local market or spiritual store and let your intuition guide you to a stone or collection of stones for your home. Place them in your pot plants, next to your bed (depending on the stone), research your stones properties and follow the guidelines of working with that stone. The main thing to remember is that the relationship between you and your stones is very intuitive and you need to trust your gut instincts when picking them You can still purposefully choose a stone that perhaps has energy enhancing properties and many have the specific purpose of removing negative energy which would be perfect for a little energy facelift.
Well, thats it from me today, Im off to the Decor + Design fair in Melbourne.
Enjoy your weekend and if you have any other energy lifting ideas you want to share with the rest of the the 'Soul Circle Tribe' please do below!
don't forget to take time to connect.
Peace Out xx
Melanie Sherwell - Interior Designer
Soul Shapes- Lifestyle Interiors
Reference - http://negativeionizers.net/negative-ions-benefits/